"Residential Properties" – Winner of Golden Quill Award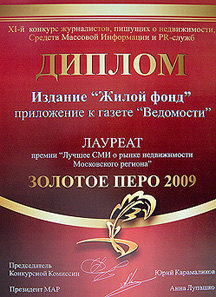 The Moscow Realtors Association (MRA) summed up the results of its annual Golden Quill competition. The "Residential Properties" insert in the Vedomosti newspaper was named the best publication covering Moscow region real estate.
The Golden Quill competition has been held since 1999. In that year, the current editor of "Residential Properties," Sergei Zharkov, took the honors for his work in 1998 for the single category then existing – "High Professionalism."
Zharkov and "Residential Properties" journalists Yelena Nikitina, Svetlana Danilova and Natalya Samarina have, in various years, won competitions for journalists conducted by the Moscow government, the Realty Guild of Russia, and Moscow Realtors Association, PROEstate and other organizations. The Vedomosti inserts "Residential Properties, "The Walls of Business" and "Overseas Real Estate" have more than once been listed among the best publications as determined by REPA – The Real Estate Marketing Community.
"Residential Properties" editor-in-chief  Sergei Zharkov said, "We managed to gather together a very strong team. Most frequently, awards are given to individual journalists, and that makes the MRA competition all the more appealing because it evaluates the work of not only individual writers, but the publication as a whole."