Meet this Spring with Seasons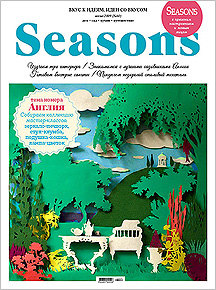 Seasons magazine will be published four times in 2009 to coincide with nature's seasons. The first, spring issue, is dedicated to England. A special master class section is included in each issue. In the spring British issue, designers share simple methods to help you make your home cozy and warm.
And, so that readers do not miss out on the traditional monthly contact with the magazine, Seasons editors made a very beautiful, useful and lively web site that includes news and consultations with professionals.
Editors will use blogs on the site to give readers all of the most interesting information – new quaint designer shops, cafés that make the cappuccino with the best foam, flower shops with florists who are geniuses at their craft, books that make you cry and films that make you laugh so hard you cry and proven but unusual tours that you can take with your children, friends or enjoy alone. Readers can also share their discoveries with Seasons.
In addition, visitors can also use the services of the Seasons design-bureau to receive a free consultation or order a design plan for your future home.