Best Editor-in-Chief – at Men's Health Russia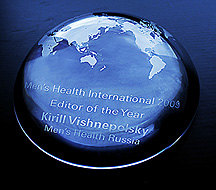 The Rodale company, which founded Men's Health magazine and holds its overseas publication rights, held its annual Men's Health conference this month in New York City. According to tradition, an award was given on the first day of the conference to the best international edition of Men's Health.
The editor-in-chief of the Russian edition, Kirill Vishnepolsky, was given the award of Men's Health Editor of the Year - 2009. He was chosen from among the chief editors of 30 different editions of the magazine published around the world.
Men's Health Russia continues to hold a leading position among the international editions of the magazine.