Mamas&Papas: A Full-Time Course in April!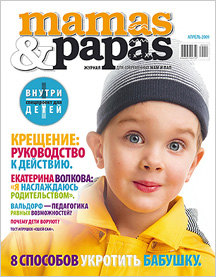 On April 7, the second issue was released of the magazine for modern parents - Mamas&Papas. The main theme of this issue was parent loyalty.
The magazine's writers tried to become the most understanding mamas and papas in the world. Editors revealed secrets of how to be patient when kids get dirty in spring puddles or are rude to their grandparents - those kindly family members who raised their grandchildren "to have full bellies and to never go outside without a scarf." The magazine uncovered the reasons why some children steal and learned how to react calmly to that difficult behavior.
Also in this issue:
Second Birth - All the subtle details of the christening ceremony.
The Big Experiment - Actress Yekaterina Volkova shares lessons she has learned from raising children.
A Favorite among Favorites - Touching photo expose titled "Favorite" about families that have adopted children.
Town in a Snuffbox - A look at the Waldorf educational method.
The magazine's insert, "Mamas&Papas. For Kids" is dedicated to the Wild West. This issue tells how to catch dreams, how to find the North Star and how to craft a cowboy from aluminum foil.