Interni in March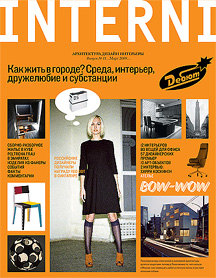 A Russian designer is on the Interni cover for the first time - Karina Yeganyan, who received the Red Dot award for her graduation project design concept. An interview with her and three other distinguished Russian designers can be found on the opening pages of the magazine.
The March issue is dedicated to life in the city. The issue includes plans for four homes and their interiors, each located in a different setting: on the periphery of an Oslo museum, on the London gateway, in an historical Brooklyn real estate development and in the private sector of Tokyo. The issue also includes an interview with architects from the Japanese firm Atelier Bow-Wow on the way they plug holes in the city's fabric, seven modern public squares and parks as well as a look at kiosks and street art.
Readers will also find an informative comments by developer Vyacheslav Sosinsky about how the anti-city of our day - the retail center - is built, as well as an interview with Finnish designer Harry Koskinen about designing during the crisis. In the news - two new public interiors in Moscow: Alexander Mitta's Luch bar and an office built by architects Savinkin and Kuzmin. The issue also includes examples of plumbing fixtures and furniture as well as a detailed study of office furniture.