Art & Antiques – Partner at Tea Party in Honor of Andrei Lanskoy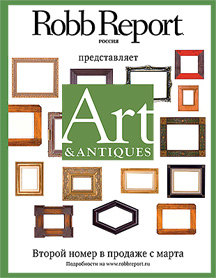 Art & Antiques magazine continues as the informational sponsor to the successful series of art-themed tea parties "Discussions of the beautiful at the Eritazh (Heritage) Gallery" that began in December of last year.
Another tea party was held on March 4 as part of the series, "Discussions of the beautiful at the Eritazh Gallery." This time participants discussed lyrical abstractionism as seen in the works of Andrei Lanskoy, Vasily Kandinsky and Paul Klee.
Taking part in the discussion were Serebryany Dozhd (Silver Rain) radio station hostess Inna Solomonovna Solovyova and curator of the Andrei Lanskoy exhibit and Eritazh Gallery art director Kristina Krasnyanskaya. As part of the tea party, participants were able to browse the works displayed at the retrospective exhibition of works by Count Andrei Lanskoy currently held at the Eritazh Gallery.
The magazine's logo was displayed on invitations as part of its sponsorship of the event. Promo-informational material about the magazine was also displayed in the exhibition space.