The Moscow Times Releases "Russia for Beginners" Guidebook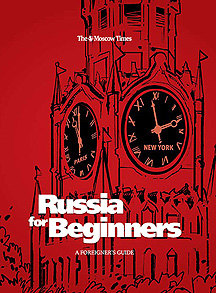 The Moscow Times newspaper has released the long-awaited guidebook for foreigners in Russia - "Russia for Beginners. A Foreigner's Guide to Russia." The guidebook about Russia is a unique English-language publication where veteran expatriates, many of whom are top managers of major international companies, share their of experience living in Russia. The publication includes original illustrations drawn specially for The Moscow Times.
The publication's target audience is newly-arrived foreign managers who face a difficult period of adaptation to the Russian business culture. However, the book will be no less interesting for Russian readers who want to get a view of themselves through the eyes of foreigners and who are interested in cross-cultural interaction.
The book's contributing authors include HSBC Bank president Stuart Lawson, Uralsib Bank director of strategic marketing Chris Weafer, MTS vice-president Cynthia Gordon, Baker and McKenzie managing director Carol Patterson as well as renowned journalist Vladimir Posner.
"Russia for Beginners. A Foreigner's Guide to Russia" provides information on the rules of daily life in Russia and the Russian mentality, and shows readers the ins and outs of doing business here. Despite the serious themes the book touches on, the style of the presentation is informative yet easy to read, thanks to numerous real-life stories and amusing incidents from the lives of the expats profiled.
Among the book's chapters are the following:
The state, legal and bureaucratic aspects of doing business in Russia;
Russian politics in the 21st century and its influence on business;
Investment in Russia;
Regional development in Russia;
What makes Russians tick? The peculiarities of the Russian mentality;
How to converse with Russians;
Russians' attitude toward foreigners;
How to conduct negotiations in Russia;
Managing teams of employees in Russian companies;
Human resource management in Russia;
Russians' attitudes toward money;
Women and business in Russia.
"Russia for Beginners" will be sold in Moscow bookstores and Internet stores. Price: 800 rubles.