The Moscow Times Invites Readers to Mariinsky Theater Premiere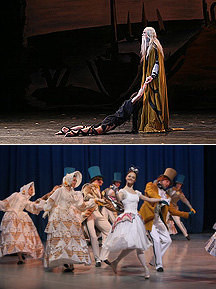 The Moscow Times newspaper will act as the official informational partner for the "Premiere of the Mariinsky Theater in Moscow" as part of the Golden Mask Festival.
Interest in the Russian ballet has not diminished overseas or in this country. Every visit from the St. Petersburg troupe and orchestra conducted by Valery Gergiyev becomes a real event in the theatrical life of the capital. The Moscow public thereby receives a unique chance to become acquainted with the group's most interesting and outstanding work.
This year the project includes a staging of the "Brothers Karamazov" opera by the modern composer Alexander Smelkov, conducted by Valery Gergiyev and directed by Vasily Barkhatov. The theater troupe will also present the ballet "Glass Heart" set to music by Alexander Tsemlinsky and "An Evening of One-Act Ballets" to include performances of "Carnival," "The Wanton Son" and "Symphony in C Major."
The program for 2009 includes:
February 28, 7 p.m., Bolshoi Theater's new stage: "Glass Heart."
March 1, 7 p.m., Bolshoi Theater's new stage: "Evening of One-Act Ballets – Carnival, The Wanton Son and Symphony in C Major."
In conjunction with the performances, The Moscow Times will conduct a special subscription and distribution drive for the International Herald Tribune and The Moscow Times.
Information on the project and tickets are available at www.goldenmask.ru.