Vedomosti - Among Print Media Market Leaders in 2008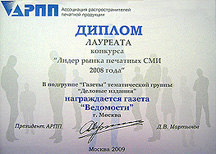 Vedomosti become an award-winner in the "Market Leader in Print Media" competition under the "business publication" category. This is the sixth time the competition has been conducted by the Press Distributors Association (PDA).
The winners were determined based on sales results - the people's real demand for print publications. More than 200 publications participated in the contest, but only 45 newspapers and magazines received PDA awards.
Vedomosti newspaper was named the leading business publication for the second consecutive year.
Managing director of Business News Media Gleb Prosorov said, "Since the competition results reflect the interest of readers - who literally 'vote with their pocketbooks' - rumors about the decline of quality press should probably be considered an exaggeration. Thank you to all our readers."