Best Life On Board Transaero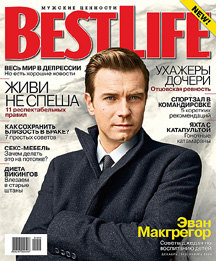 Beginning in December 2008, the new men's magazine Best Life will be found on board the new generation of Boeing 747-400 and Boeing 777 airplanes flown by Transaero airlines. The magazine will be distributed in the new Imperial Class, designed for passengers who demand the very best service possible. Best Life will also be made available in the VIP hall at Domodedovo Airport.
The Imperial Class salon is fitted with unique, ergonomically-designed armchairs that recline a full 180 degrees, transforming them into sofas. The Imperial Class menu, created by the best chefs in Russia, includes the most sumptuous dishes of European and Russian cuisine -- all served on exclusive tableware made by the Imperial Porcelain Factory. Drinks are served in crystal goblets created by the renowned Gusevskoy Khrustalny Factory. Passengers in Imperial Class are served by VIP service managers.
Imperial Class is available on Transaero flights to the following popular resort destinations: The Dominican Republic (Punta Cana), United Arab Emirates (Dubai), Indonesia (Denpasar on Bali Island), Maldives (Male' Island), Thailand (Bangkok and Phuket).