National Geographic Russia at Mexican Movie Festival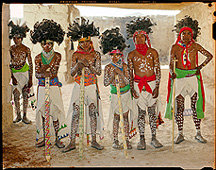 National Geographic Russia acted as an informational partner to the Festival of Modern Mexican Movies being held from November 12 to 24 at the Formula Kino Evropa and 35MM movie theaters.
Six films will air during the festival: Cumbia Connection (2007), Like That (2005), Nonna's Journey (2007), J.C. Chavez (2007), Everyone Has Their Own Karma (2008), and a directorial debut by Mexican actor Gael García Bernal with the film Deficit (2007).
At the festival's opening, National Geographic Russia will make a presentation of the November issue of the magazine that includes a feature article on Mexico's Tarahumara Indians. Festival guests will also have a chance to view the Mexican issue of NG Traveler. Banners depicting both magazines and using the visual motif of the Mexican publication will be on display at the festival. Subscription coupons will also be available.
The film festival's official site is www.mexicofest.ru.