The Smartest Chief Editor: from Men's Health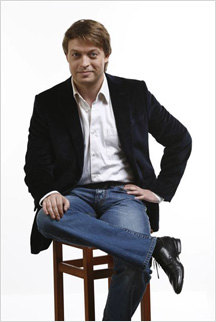 The latest episode of the CTC game show The Smartest was taped on October 1. Competitors for the title of "Russia's Smartest Journalist" included Kirill Vishnepolsky (Men's Health), Sergei Maiyorov and Lyubov Kamyrina (History in Detail, also on CTC), Nikolai Uskov (GQ), Rita Mitrofanova (Radio Maximum), Yana Lepkova (OK! magazine), Alexander Khabarov (Rossia television), Andrei Kolesnikov (Kommersant Publishing House), Yury Gladilschikov (Russian Newsweek), Anton Khrekov (NTV television) and others.
The winning team was Kirill Vishnepolsky and Andrei Kolesnikov, beating out pairs Maiyorov and Kamyrina, and Lepkova and Khabarov. The program will be aired on television channel CTC in November.