The Moscow Times Student Contest Results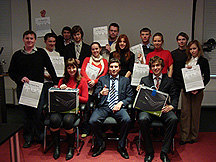 The Moscow Times newspaper and Philip Morris International conducted a contest for university students titled "Write a Business Case and Win a Notebook." The competition was launched in May 2008, and over 300 students from various Russian institutions of higher learning participated.
Contestants had the opportunity to practice using their management and marketing knowledge to resolve problems they might face in future jobs.
The Moscow Times congratulates the contest winners who submitted the best work. They are:
Inna Kryuchkova – Department of Economics, P.A. Kostychev Ryazan State Agricultural and Technical University;
Oleg Lopatin – Psychological Counseling Department, Moscow State University of Psychology and Pedagogy;
Vasily Dmitriyev – Philosophy Department, Lomonosov Moscow State University.
The Moscow Times awarded the winners three main prizes: 2 Acer notebook computers, and 1 standard personal computer.
More information on the contest can be found at competition.student-project.ru.