Homes Overseas at Domexpo International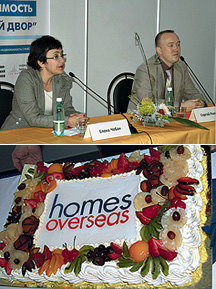 Companies offering overseas homes for sale are paying increasing attention to Russia. This became evident at the 19th Domexpo International real estate exhibition held in Moscow from October 9 to 12. Homes Overseas, which traditionally acts as the official media partner to the event, conducted a presentation during the proceedings.
For the first time, this year's spring Domexpo was divided into two parts: Domexpo International and Domexpo Russia. And if, half a year ago, those two events were held with a two-month interval between them, this time the two events – dedicated to both Russian and foreign real estate – were held simultaneously at two different venues, Moscow's Manezh and Gostiniy Dvor.
Russians' growing interest in real estate abroad has elicited a reciprocal reaction from foreign salespeople: Over 230 foreign companies from 40 countries attended this Domexpo International, with the majority hailing from Bulgaria, where Russians are now the primary buyers in the real estate market.
On one showroom floor, attendees could view a full spectrum of residential and commercial real estate for sale from around the world, including European countries, the United States and South American countries. The properties fell into differing price categories, from economy class apartments to luxurious villas. Among the many displays on hand were new, flashier stands designed to stand out from the crowd and attract potential investors and business partners.
Plenipotentiary ambassadors from Panama, Croatia, the Dominican Republic and official representatives from Spain and Montenegro participated in the exposition's opening ceremony. The Domexpo International program included seminars dedicated to various aspects of the process of purchasing real estate overseas, and separate days were devoted to real estate in Turkey, Spain and Bulgaria.
The Homes Overseas stand included an impromptu summer café that recreated the atmosphere of a resort-style evening, and where visitors received complimentary glasses of champagne and liqueurs. On October 10, Homes Overseas conducted a presentation for its partners and exposition participants at which the magazine's editor in chief, Sergei Rymov, and the director of real estate projects development for The Moscow Times – the senior publication of parent company Independent Media Sanoma Publications Publishing House – told listeners how Homes Overseas was affected by its union with the largest publisher in Russia, and of plans for the coming year. Guests were pleasantly surprised by a small buffet table and a delicious, airy tort that finished out the program.
The 20th Domexpo International will be held from February 26 to March 1, 2009 in Moscow's Gostiniy Dvor.