Private Investor's Guide 2008'2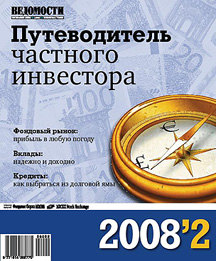 Independent Media Sanoma Magazines Publishing House announces the publication of the sixth edition of its Private Investor's Guide. Starting this year, the guide will be published biannually, in March and October. Forty thousand copies of Private Investor's Guide 2008'2 went on sale on October 14.
The Private Investor's Guide is a unique publication covering the private investment market. In plain language, the guide explains the most important theories and practical aspects of the various investment tools available in Russia.
The guide's managing editor and editor of Vedomosti's Personal Account column Lyudmila Koval said, "This year, in the midst of an extremely difficult financial situation, a passive approach to investing on the stock and commodities markets no longer produces positive results. High-risk strategies for investing in a falling market have replaced it," Koval said. "That is why in the second edition of this year's Private Investor's Guide we suggest that readers become acquainted with simple game strategies for a depressed stock market, as well as term market activities. We have given special attention to bank deposits, which have turned out to be the best option for private investors," she said.
The main themes of the 2008'2 edition are:
Deposits: Reliable and profitable
The Stock Market: Earning profit under any conditions
Collections: The Bordeaux of profitable shares
Credit: How to pull yourself up out of debt
Personal Budget: Spending less

More in-depth information on these topical themes can be found on the pages of Private Investor's Guide 2008'2.