Best Life Tornado Race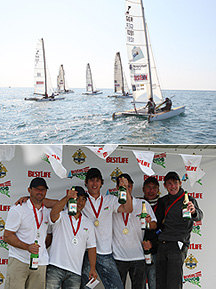 The Best Life Tornado Class Race Championship, hosted and organized by the new men's magazine Best Life, was held from September 21 to 27 in the Black Sea town of Anapa.
Tornado sailboats are among the fastest vessels in the world, and are included in Olympic competitions. These catamarans are made from two slender hulls joined by aluminum beams and can reach speeds of up to 40 miles per hour. At such speeds, the sailors must make split-second decisions, and even a minor mistake could capsize the boat. Tornado catamarans are often called the Formula 1 of sailing, and only the most highly experienced and capable yachtsmen make up the boats' two-man crews.
The Best Life Tornado Race Championship consisted of 10 rounds. The winner was determined by adding the nine best results of each participant. Nine 2-man teams hailing from Moscow, St. Petersburg, Tolyatti, Novosibirsk and Voronezh competed in the race. The unpredictable September weather -- fluctuating between stormy seas and absolute calm -- heightened the intrigue to the limit. Right up until the final race it was unclear exactly who would take the prize. The final results were:
First place: Alexei Chekrygin and Valery Seleznyev of Tolyatti,
Second place: Sergei Dzhienbayev and Valery Ushkov of Moscow,
Third place: Pavel Sozykin and Albert Ziatdinov of Tolyatti.
Best Life Magazine plans to continue supporting and covering Russian sailing events in the future. A feature article in the second issue is dedicated to the famous round-the-world Volvo Ocean Race, in which a Russian team flying their tricolor flag will compete for the first time.