NG Russia And NG Traveler At The Festival Of Chinese Lanterns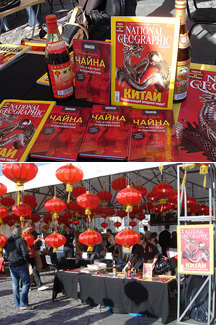 National Geographic Russia and National Geographic Traveler participated in "Centuries-Old Traditions" a festival of traditional Chinese lanterns which took place from August 8-10 at Poklonnaya Hill. The journalists presented a new book by Vladimir Pechenkin called "China: What and How Chinese Drink" together with the publishing house Ad Marginem and the Shu Ba book club.

Attendees also got to see a photo contest titled Liquid China, taste Chinese drinks, hear the author's stories about the book and attend a press conference.

Everyone who bought the book during the festival received a special Chinese issue of NG Russia and NG Traveler with a lot of articles about China as presents.