Best Life In Russia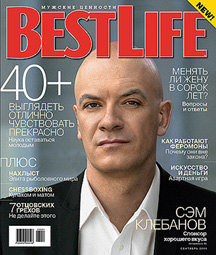 Independent Media Sanoma Magazines has introduced another new publication to the Russian market. The first issue of Best Life Russia will see the light on September 2, 2008. This magazine is a lifestyle guide for rich and successful men who love life.

Best Life is the only men's magazine that is dedicated to family, health and career. The magazine helps find a balance between work and leisure. Readers of Best Life believe that life becomes better when you know more, not when you have more. Stunning pictures, an exquisite writing style, interesting topics and high quality journalism make Best Life a perfect guide to the world where the money and the time are spent in the wisest of ways.

The first issue of Best Life was published in the USA in 2004, with the circulation of 200 000 copies. By 2008, the number of copies had reached 500 000 (the magazine is said to be fastest growing men's edition in USA). Total frequency of Best Life makes 600 000 copies. Today it is published in five countries: USA, the Netherlands, Spain (2005), South Africa and Portugal (2007).

Alexander Grek was appointed chief editor of the Russian version. He used to head the magazine Popular Mechanics. Margarita Tyrina is the editor of Best Life. The magazine will be published with the frequency 10 issues a year, 103 000 copies.