The Moscow Times Releases the Summer Guide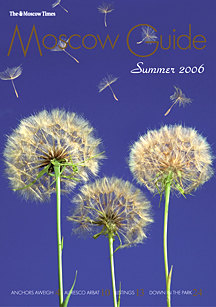 On June 1, The Moscow Times celebrated the beginning of summer with the release of its Moscow Guide - Summer 2006 supplement. The majority of its articles are devoted to summer topics - among them yachting sailing adventures guaranteed to give you another view of Moscow, as well as the perfect parks and gardens to visit this summer.

Restaurants are another important topic of the issue. Readers who like to dine outdoors on summer evenings will find it useful to look through the review of Arbat's alfresco dining options and listing of 400 Moscow restaurants. In addition, the newspaper presents the highlights of the last six months' openings.

The gossip column publishes reviews of the 5th Annual Russian Rapsody and Moscow Motion Party held in London in April.

Both Russian citizens and foreigners will enjoy the interview with Marina Somers, business lady and wife of Andrew Somers, President of the American Chamber of Commerce. Marina tells about expat life in Moscow.

Autumn Guide, the next issue of the supplement, will come out on October 26 and be distributed at the Millionaire Fair.