Yes! Gets Thicker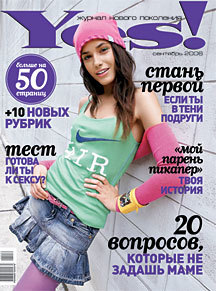 In September, Yes! magazine's volume reached 220 pages. This means that the magazine has become 10 rubrics thicker and won't get thinner any time soon. That's the main present from the editorial to readers for the magazine's 8th birthday.

The list of new rubrics includes:


10 points: the most fashionable things of the month - movies, books, music, make-up


Look at me: photos of fashionistas from the street with description of the clothes they are wearing.


Like a star: fashion editor chooses a superstar, then lookes for his twin and dresses him similar to the star.


Star beauty: school hairdos.


True story.


What about you? Girls who are still very young but have made significant achievements.


A visit to a star.


Star way: in September - Brithney Spear's success story.