The Collection of Restaurants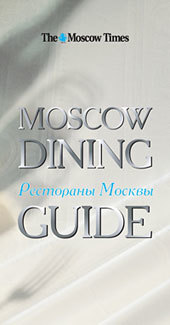 The Moscow Times presents the second edition of the English-Russian Moscow Dining Guide. The book includes more than 30 detailed descriptions with colored pictures, as well as additional data for 300 Moscow restaurants.
Besides standard information on a restaurant's interior, menu and prices, the Guide contains an index of cuisines, a restaurant's average bill, location and opening hours. The book was published in partnership with Raiffeisenbank and Evans Real Estate.
Moscow Dining Guide will help you to choose the ideal restaurants and serve as a great present for any celebration.
For additional information, please contact Daria Yagodina (
d.yagodina@imedia.ru
), tel.: +7 (495) 232-4774