A New Issue of Real Estate Quarterly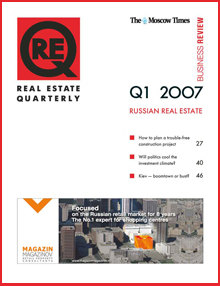 On March 1, The Moscow Times published the latest issue of Real Estate Quarterly. The new issue includes surveys of the main factors and events influencing the real estate market in Russia. Among the noteworthy features are Michael Lang's article on how political events in 2007-2008 could affect property values, an article about architect Totan Kuzembayev and an interview with Frazer Lawson from Intermark. There is also information about building risks, features of storage management, lease questions, and a list of top realty.

You will know all about Kiev real estate, which is believed to have great potential. This survey contains information about main trends and prognoses that can be useful for investors and real estate players.

The next Real Estate Quarterly will be issued June 6.