Jobs & Careers - Spring 2007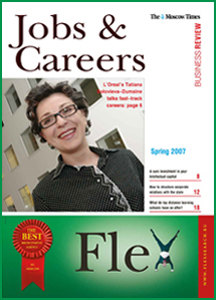 On March 14, The Moscow Times Newspaper published the latest issue of Jobs & Careers. This issue is biyearly, publishing in spring (March) and autumn (October).

Jobs & Careers is intended to help career-minded readers locate the right job or find out more about business education programs in Russia or abroad.

The March issue features the latest news on the Russian job market. Readers can learn how to attain professional advancement in an interview with general director of L'OrealParis Tatiana Solovyova-Dumen. Marina Kolosova from "Stimul" center discusses the fine points of manipulation in business relationships. Also of note are articles about Graduate Recruitment and CFA programs, MBA international programs, team-building training, programs of distance studies and the new TOEIC English test.

The next Jobs & Careers will be issued October 10.