Men's Health on City FM radio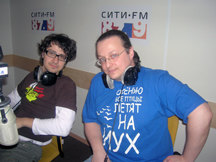 On March 29, Men's Health magazine will begin its own program under the broadcast "Sex in a Big City" on City FM radio.

An hour-long program will go on the air every week at 00:00. Its co-master will be Alexei Yablokov -Editor-in-Chief of the Men's Health magazine.

Every 15 minutes it will be reminded that the program is prepared together with Men's Health magazine.

Would-be subjects of the broadcast about men's health are "How to Make Your Body Sexual Over Three Months", "Smoking Man", "Sleep in Man's Life", "Right Diet", "Art of Food".