The Green of Summer at Seasons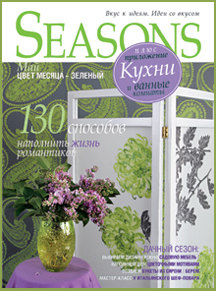 Spring is approaching, and the confining grey walls of the city become less appealing with each degree that the mercury inches up. It seems that designers are heading back to nature along with everyone else, at least if you judge by their work, which is resplendent with the green of early summer. The latest issue of Seasons is dedicated to this particular version of green in all of its manifestations. Designer Lena Solovyova, for example, was inspired by the film "Marie Antoinette" and created a romantically ambient new version of the original. Lithuanian designer Rasa Baradinskiyene invited us to her tiny design bureau to meet Mama, a lime green table that added a refreshing summer note to the Tendence Lifestyle exhibition in Frankfurt. Seasons also features a story showing the amazing things that can be done with green peas.

So as not to be too green, we're adding a romantic lilac hue with our "Paris Passions" piece, as well as "Gone With the Wind," which florist Roman Zarubin decks out in lavender.