June's Issue Of Yes!: The Beach Supplement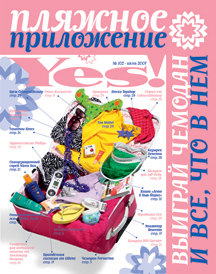 Most stylish swimming suits and flip-flops, trendiest sunglasses and best sunscreens, interesting books and things you can't do without at the beach, fun tests and summer horoscope, funny pictures for body-art, and a checklist on how to survive any seaside dangers - all these you can find in the beach supplement to June's issue of Yes! magazine.

In order to help its readers pack their luggage, Yes! announced a beach-contest called "Win the Suitcase on the Cover and all its Contents Too!".

The June issue itself features a lot of interesting information too.

Yes! tells how to survive unhappy love, and how to find a new one - online. Yes! helps you choose a summer perfume and to turn the room into the Tokyo Hotel, reveals 39 ways of getting a free ride to the sea and gives a chance to win weekend for two to Turkey, with Sunrise Tour.

Plus - Yes! and Accesorize announce the most important contest "Person of the Year 2007". Readers will have a unique chance to be on the cover of their favorite magazine. Within few months the most charming, creative, humorous, talented and independent girls will be selected, girls with Yes! and Accesorize style.

In September during the birthday celebration of Yes! magazine, we will reveal the name of the winner of "Person of the Year 2007" contest.