New Cultural Webguide on Moscow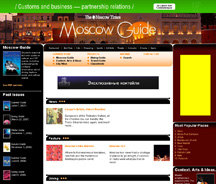 The Moscow Times presents a new webguide on leisure, entertainment and the cultural life of the capital:
www.moscowguide.moscowtimes.ru
. Various articles from The Moscow Times Moscow Guide magazine (seasonal glossy guide in English on society life and cultural events of the capital) will be available on this website.
The webguide also includes a navigator with the most detailed description of the best restaurants of Moscow, a cuisine section and contact information. Another section, called City Wise, gives the readers daily advice on business and lifestyle, reveals the city's best restaurants and other places of entertainment. The Travel Guide provides useful information about Russian regions and places of interest which are worth visiting.
Context. Arts and Ideas section about cultural events will be updated on Fridays.