Yes! In August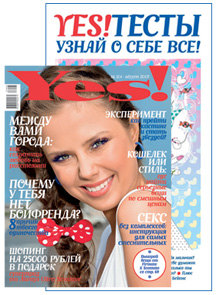 There are many surprises for readers in each issue of Yes!. This August we invite you to undergo a series of psychological tests which you can find a the special annex called "Tests. Find Out Who You Are". Girls can check their IQ and self esteem, find out what their friends think about them, predict their boyfriends' intentions and learn about chiromancy. Readers also have the opportunity to win a mobile phone.

The August issue of Yes! tells readers lots of important things:

Why does a beauty who speaks three foreign languages and is famous for her angelic character still single? Actually, there are 8 reasons for that....

How to keep love burning during a long distance relationship? Three real stories of couples who managed to preserve their tender feeling at three thousands km distance.

Complexes… They torture us and make our lives a real misery. We start to hate the world.

The most important thing in life is to find your vocation. Make one step and change your life completely. We helped one of our editors make this step.

These articles and many more are in the August issue of Yes!.