Special Editions of Men's Health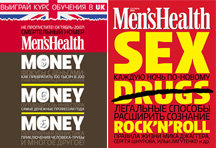 In September, Men's Health started a series of thematic editions. In these special issues the readers will find expert advice, human-interest stories and all of the latest research information. Each edition of this kind offers contests and has its own feature. The September issue was sold in a special pack with a secret cover inside. In October the readers will have an opportunity to win 31 days of study in a top British university. The November issue will have a wonderful poster inside the magazine.

Each thematic issue is promoted on the radio, on the Internet and in shops.

October's special edition of Men's Health is called MONEY, MONEY, MONEY. Read in October: just a kind of magic (how to turn 100 000 into 200 000), rehab for accountants, the most profitable professions of the year, popular bonistics, the adventures of the pipe-man and much more.