New Catalogue of Fashionable Clothes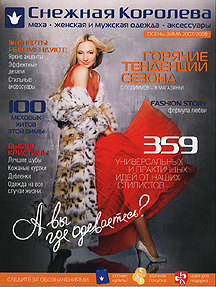 The Custom Publishing subdivision of Independent Media Sanoma Magazines has made a new addition to its portfolio. It has published a new catalogue titled "Snezhnaya Koroleva," or "The Snow Queen," together with the Snow Queen marketing and advertising agency.

The catalogue is addressed to both men and women who keep up with fashion trends. The edition illustrates in detail all the main trends of fall-winter 2007-2008, suggesting various combinations for different situations. The catalogue also gives recommendations and advice on accessories sold in the Snow Queen chain of department stores.