Yes! Is Shooting A Film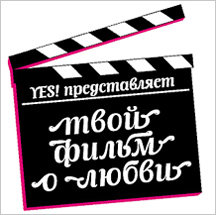 On February 13, the nightclub B1 Maximum was transformed into a huge film set for a romantic movie shot by Yes! magazine and starring its readers. All the details of this event can be found at www.yes.com.ru.

Spotlight-loving ladies will have an opportunity to become stars for one night. To make their silver screen dream a reality, they will have to participate in the "Yes! Is Shooting A Film" contest, which was announced in the January issue of the magazine. The participants should shoot a short about love and send a copy to Yes!, or upload it on the internet.

The party will also be an awards ceremony. The best authors will receive awards in various nominations: Best Screenplay, Best Soundtrack, Best Special Effects, Best Actor/Actress and Best Film.

Shy guests who shun publicity will not be left without entertainment. Bands Tokio, Chelsie, Gorod 312, Band'Eros, singers Vlad Topalov, Lera Masskva, Timaty, Lesha Vorobiov, Dino MC 47, Zhenya Otradnaya, Aleksa, Fabrika-7 and other showbiz people will put on an unforgettable show, which Alexander Anatolievich is going to host.

To get and invitation to the event please go to www.yes.com.ru, register and get an invitation letter. Let's celebrate St. Valentine's Day on 14 February at the most romantic party of the year!