Orange Tangerine has Turned Five!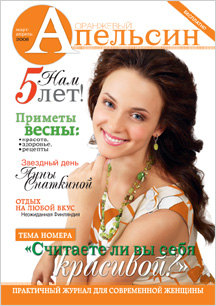 Orange Tangerine is a special project of Nestle Food, Colgate Palmolive and Unilever SNG created for the Russian market. It is a client magazine with a circulation of 1 million targeted at modern ladies. The magazine is distributed in the biggest cities of Russia, establishing direct contact and quick feedback from clients.

Some changes to the magazine were made for the 2008 issues which promise to make the magazine even more interesting. Independent Media Sanoma Magazines Custom Services has carried out the re-branding of the edition, giving it a much brighter look and cover lines. Contents were also changed.

Orange Tangerine has been issued by the Independent Media Sanoma Magazines Custom Services since 2003.
Orange Tangerine is:

Targeted at business development of partner companies;

Distributed at sales spots in the biggest Russian cities;

Establishes direct contact and feedback with clients;

Helps to diminish the gap between advertising and buying;

Efficiently increases brand recognition;

Promotes sales.