Martini Gold Collection 2008: Formula Of The Future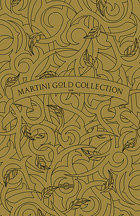 See the future, feel the spirit of today, experience the trends of modern life, and reflect all that in bright ideas and images - these were the goals set by the Custom Publishing department when it started working on its Martini Gold Collection 2008 book. Now that the book is out, its clear hat the editors have mixed a sophisticated cocktail of past and future to show a collection of trends and the image of the future.

The Martini Gold Collection book is dedicated to pure luxury. It is based on the principles of authenticity, handicraft, unique design and the smartest creations of today which will carry on into the future.

Russia's best photographers, journalists and experts were invited to create this edition. The main trend of the book is authentic luxury. The main colors are, of course, golden and purple. Gold symbolizes exquisite taste, elegance, chic, irony and quality. Purple has always stood for passion, enjoyment and a zest for life.

The Martini Gold Collection represents bright scenarios or the nearest future reflected in the windshield of a Ferrari and in the glasses of the Formula-1 pilots. It can be seen in the dancing figures depicted by the photographer Rankin. The future is represented in trips around the most fashionable cities and hotels of the world, it's in the images of stunningly handsome Jude Law, it glances through the mystic jewelry creations of Steve Webster. The future is in the stories about Andy Warhol's Studio 54, in the thoughts of the columnists, the images of the most beautiful women and in the masterpieces of modern art, it's in the cult places and, of course, the future is present at Martini Terrazza star parties.