The Moscow Times: Student Contest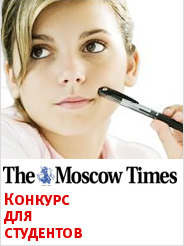 In 2008, The Moscow Times continues to carry out its Student Project contest. As part of it, the newspaper organizes a series of master classes in the leading colleges of Moscow, offers internships and helps with student recruitment and holds a student contest together with Phillip Morris Sales and Marketing.
Students can test their business knowledge at
www.student-project.ru
. The Moscow Times provides three prizes to those with the highest scores: 2 Acer laptops and 1 pocket computer. After the contest The Moscow Times will publish the report and the pictures of the winners. 20 of the best participants will receive other prizes and souvenirs from the newspaper. Participation is free of charge and available for students aged 18+. The contest will run from May 16 to September 20, 2008.