SmartMoney: Vietman Is Better Than Ostozhenka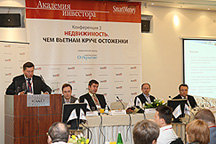 The second Investor Academy project conference organized by SmartMoney magazine took place on June 19. It was titled "Vietnam Is Better Than Ostozhenka" and dedicated to real estate investments.

Top managers and leaders from Morgan Stanley, Knight Frank, IntermarkSavills, Veles Kapital spoke at the conference, sharing their profound knowledge of investment strategies in the global real estate market. They presented investment products and schemes effective for investments in various real estate sectors. The geographical survey of trends and investor prospects for the market included all parts of the world: Eastern and Western Europe, USA, Latin America, Middle East, South East Asia, Japan, South Africa and Australia. A separate presentation showed investor opportunities for the practical case, which is a residential and resort complex in Vietnam.

The second Investor Academy event gathered twice as many participants as the first one. They all acknowledged that the meetings were very useful.

The conference proved that real estate is today the most popular investment sector, both in Russia and in the rest of the world. Unfortunately, the global market provides little information about risk and prospects for Russian private investors. The conference was aimed to close this gap and the participants say the target was achieved.

Three more Investor Academy events will take place this year:
Goods Markets (25 September);
Structural Products (24 October);
7 Top Investment Strategies (4 December).