Shigeo Suzuki: "You create the landscape in which we work"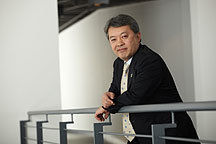 On behalf of the Panasonic Corporation, I congratulate the Sanoma Independent Media publishing house on its 20th anniversary!
Although I began working in Russia relatively recently, I already know that Sanoma Independent Media is one of the largest and most influential publishing houses in the country. You formulate the picture of the day and effectively create the landscape in which we work. Your publications play an important role in promoting our products. Together, we make people's lives easier and more interesting.
Twenty years is a venerable age. You have worked hard to attain your current success, and I genuinely hope that you will be able to strengthen and expand your position in the media market over the coming decade. Here's wishing you new ideas, exciting projects and broad possibilities!
Shigeo Suzuki,
President of Panasonic Russia