Cosmopolitan Beauty Holds Beauty Day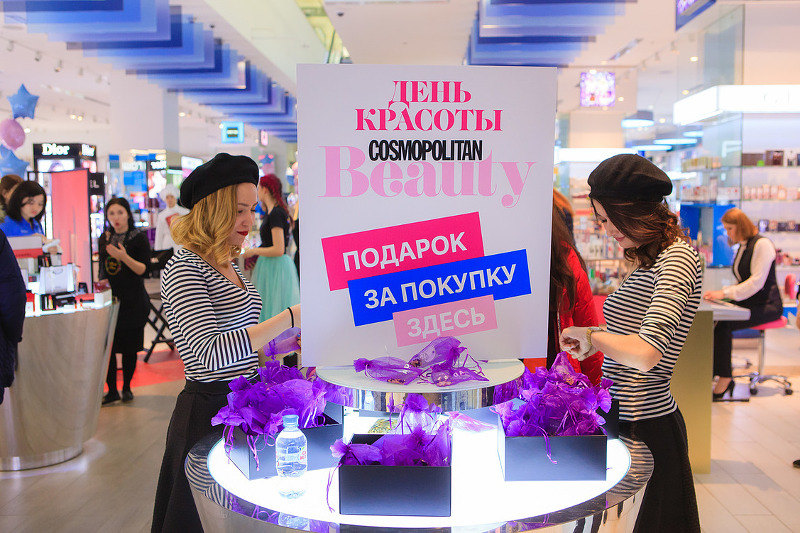 Cosmopolitan Beauty magazine and the Rive Gauche chain of cosmetics and perfumery stories held the seventh edition of Beauty Day in Moscow, St. Petersburg, Kazan, and Rostov-on-Don on November 11.
French chic was the theme of this year's event, which included performances by mimes, caricaturists, magicians, and musicians. Throughout the day, guests could take part in workshops by leading makeup artists and meet well-known beauty industry representatives.
Guests in every city enjoyed discounts of up to 50% on beauty products, with the most active shoppers winning Rive Gauche gold cards and Lady Collection accessories.
Cosmopolitan Beauty editor-in-chief Yulia Lapshina delivered the welcoming remarks at the event held in the Rive Gauche store at Tsvetnoy Central Market. This was followed by a public talk with beauty blogger Elena Krygina and a discussion on women's health between magazine editor Olga Khardina and dietician Natalia Zubareva.
Zhara TV channel host Slava Nikitin and Ru.TV presenter Yulia Zavyalova were the hosts of the event in Moscow. The Pyatnitsa, Yu, and World Fashion Channel TV channels broadcast clips of the event. Celebrity guests spotted among the crowds at Tsvetnoy included Maria Ivakova, Yulia Parshuta, Lena Lents, and many others.
Stylist to the stars Gala Borzova was the first guest at Beauty Day. She and Cosmopolitan Beauty editor Alisa Drobot discussed beauty show trends that are relevant to everyday life, while singer Yevgenia Lyubich spoke about French chic and inner beauty.
Authentica Club top stylist Maria Bulgakova explained how to create New Year's hairstyles and Natalia Guseva of Brow Up! shared the secrets to getting the ideal eyebrows. Designer and illustrator Elizaveta Odinokikh explained and showed how anyone can become the star of the party without spending a fortune. After their public talks, Beauty Day guests took questions from guests and posed with them for pictures in the Editorial Zone.