Cosmopolitan Beauty Holds Beauty Day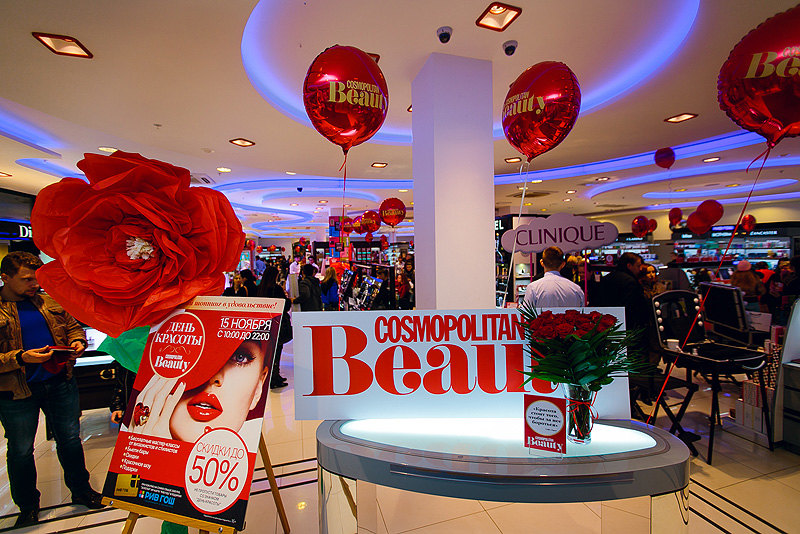 On November 15 Cosmopolitan Beauty magazine held a Beauty Day event in four Russian cities. The Rive Gauche chain of perfume and cosmetics stores once again served as partner for the events.
This year the event took place in four cities simultaneously – at the Tsvetnoy department store in Moscow, the Passazh department store in St. Petersburg, the MegaCenter Gorizont shopping and entertainment center in Rostov-on-Don and the TandemGallery shopping center in Kazan. As many as 19,000 people attended the festivities in Moscow alone and more than 30,000 in total took part in the four separate Beauty Days.
Beauty Day guests received discounts of up to 50 percent on their favorite beauty products. The most active shoppers received a complimentary gold card from Rive Gauche and accessories from LadyCollection. Customers also received special gifts from a range of cosmetics and perfume brands.
This theme for Cosmopolitan Beauty Day this year was "The Sound of Beauty," and during each event, musicians set the mood and delighted guests with their brilliant performances. In keeping with the motif, a special manicure zone provided guests with nail art featuring musical notes and instruments.
Leading brands presented their limited-edition collections and launched sales of new  products for the Christmas season. Rive Gauche organized a presentation of the new Girl scent by singer, producer and fashion designer Pharrell Williams and held a contest. Three winners in each city won Girl perfumes and fans of Pharrell got up on stage to dance to his hit songs.
Cosmopolitan Beauty set up a creative photo zone where anyone could take beautiful pictures. In Moscow guests could take Polaroid snapshots and in St. Petersburg they printed their Instagram photos in real-time using the event's hashtag #cosmobeautyday.
As emcee of the Moscow event, actor and television host Igor Lantratov kept guests in a great mood all day. A number of celebrities also took part in Beauty Day. In Moscow, designer Igor Chapurin, Dasha Gauzer, Masha Tsigal, television host Olga Shelest, Snezhina Kulova, Comedy Club member Natalia Medvedeva, Marina Kravets, Ekaterina Morgunova, Nadezhda Sysoyeva, Irina Chesnokova, singer Mali, Elena Knyazeva and actress Anzhelika Kashirina were in attendance. The stars descending on the St. Petersburg festivities included actor Andrei Noskov, singer and Golos show participant Egor Sesarev, actresses Yevgenia Igumnova and Daria Vorontsova and designer Anna Mikhailova.
Best FM radio served as media partner to the event in Moscow.
Beauty Day from Cosmopolitan Beauty – the pleasure of beautiful shopping!