Cosmopolitan Beauty Awards 2014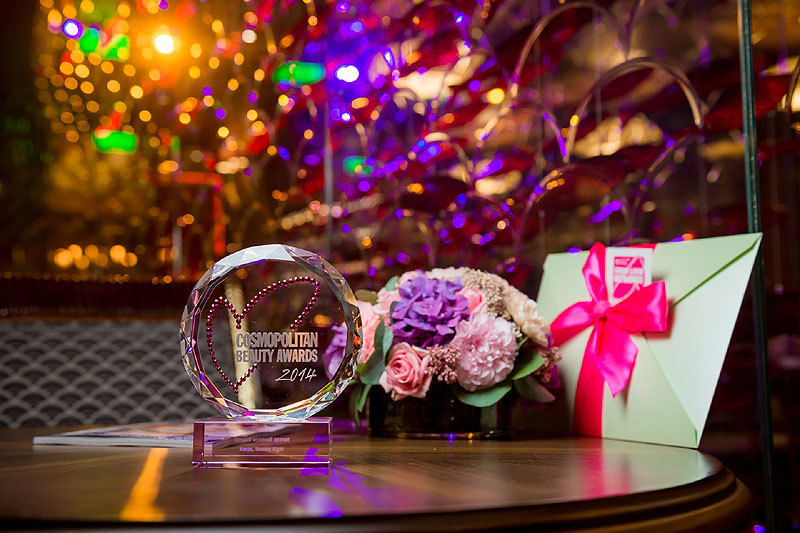 Cosmopolitan Beauty magazine announced the results of its 11th annual Cosmopolitan Beauty Awards for the best new cosmetics products of the year. The awards ceremony took place at a gala dinner in the Soluxe Club restaurant. The event brought together the award winners, chief editors of glossy publications and members of the celebrity jury: musician Anton Belyaev, designer Katya Dobryakova and actress Katerina Shpitsa as well as society figures Lyaisan Utyasheva, Dasha Gauzer, Snezhina Kulova and Lina Dembikova.
The Flower Power floral salon was behind the evening's beautiful setting, Master of ceremonies Ivan Chuikov entertained the guests and the Arfasound group set the evening's musical mood.
Cosmopolitan Beauty editor-in-chief Yulia Lapshina conducted the awards ceremony, presenting each winner with a dazzling crystal statuette, a bouquet from Flower Power and an honorary certificate. The evening continued with Tina Kuznetsova and Anton Belyaev performing with the Therr Maitz group.
The culmination of the ceremony was a three-meter-tall cake made by Moscow confectioner Renat Agzamov. With chocolate lipstick, marzipan nail polish and cosmetics, internal lighting and incredible floral embellishments, the cake perfectly matched the evening's atmosphere.
The Make Up Forever beauty bar was on hand to provide a make-up session for anyone who wanted and every photo that guests posted on Instagram with the hashtag #cosmobeauty_awards was instantly printed on the Fujifilm Instax printer and added to the Wish Tree. At the close of the evening, every guest also received a complimentary leather cardholder from Mywalit.
View photos and videos of the event on the Cosmo.ru site, on U-TV, Ru TV and the World Fashion Channel as well as the geometria.ru website.