Cosmopolitan Collector's Issue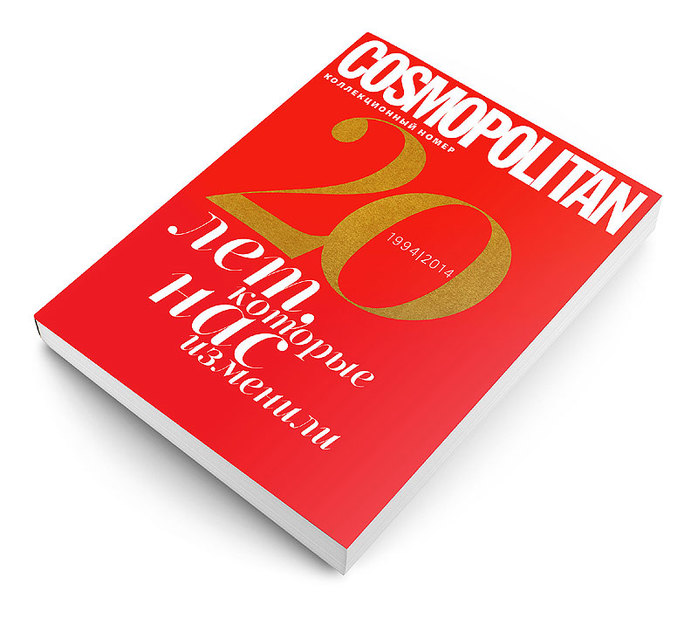 Cosmopolitan magazine celebrates its 20th anniversary in Russia in 2014. The publication has already held formal celebrations with readers in Novosibirsk, Yekaterinburg, St. Petersburg and Moscow.
The surprises do not end there: Cosmopolitan's editors have prepared a special anniversary collector's issue of the magazine titled "20 Years that Changed Us," with almost 300 pages of dozens of readers' favorite topics and people that have appeared in the magazine's pages over the years. All the magazine's former editors met with its current chief editors Alla Badanina and Polina Sokhranova to speak about what excites modern women the most. 
The anniversary issue includes:
Cover girls: 20 winning women of the Cosmo generation and their success stories;
How it all began: six editors-in-chief describe their first day at Cosmo;
Total recall: the most significant events of the last 20 years – how our preferences have changed in fashion, movies, music and hobbies;
Interview with Andrei Malakhov: on sex symbols, politics and borscht;
Cosmo experiment: twins Katya and Volga Korol tested men on their attentiveness;
A manual for finding love: a unique opportunity to be the first to read the chapter "Where to find the right one" from a book by the editor-in-chief of the U.S. edition of Cosmo;
Story of an ideal family: the Beckhams' celebrity style;
Google Russia CEO Yulia Solovyova explains how to lead the company of your dreams;
Heroes of our time: a look back at what stars said in interviews many years ago;
25 beauty tips: advice from celebrity make-up artists and make-up lessons from Scarlett Johansson;
We're from the future: how beauty standards will change 10 years and 100 years from now.
This issue also contains more than the usual amount of useful information in the traditional Cosmo columns, along with congratulatory words from Hollywood and Russian stars.
The special edition issue went on sale on September 30.