Cosmopolitan in September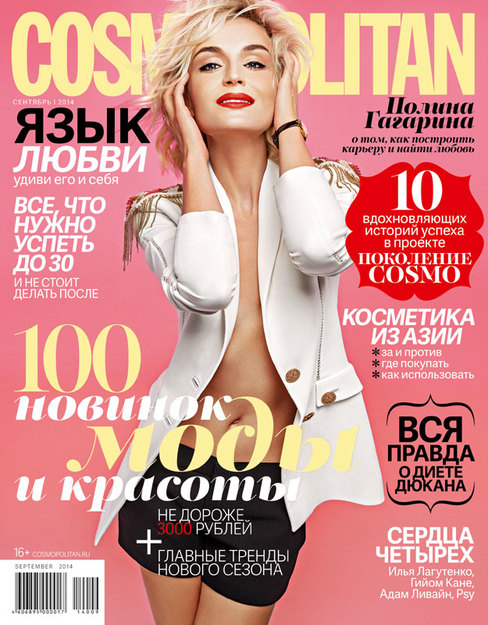 The September issue of Cosmopolitan launches the magazine's new project "Cosmo Generation." This is the first step in creating a community of open-minded women who are not afraid to achieve their goals and take responsibility for their own happiness. "Cosmo Generation" includes activities throughout Russia, workshops and opportunities to receive advice from other readers and experts in different areas, and of course, articles in the magazine! The September issue provides the project outline, an article on how to become a super woman, and success stories of girls who have realized their dreams of a "male" profession contrary to prejudices and social stereotypes.
In addition, the issue includes:
Cover girl: singer Polina Gagarina talk about how to build a brilliant career and be a beautiful, caring and loving woman and mother.
What you need to do to 30 years and habits to be left in the past.
The whole truth about the Dukan diet: the battle between top Russian experts and famous French nutritionists.
Interview with actor Guillaume Canet about his playboy image, his early career and his new role.
100 new fashion and beauty items at prices of no more than 3,000 rubles: how to create a trendy look with simple things, the main trends of the fall/winter 2014 season.
Journey to the East: a guide to Asian cosmetics – their advantages and disadvantages, places to buy and instructions for use.
Language of love: forbidden questions that you shouldn't hesitate asking, answers and advice to surprise even the most experienced.
The fearless and confident Suzie Wolff, one of the few female Formula-1 drivers who have earned respect in a male-dominated sport, talks about her road to success and ways to combine work with motherhood.
The Cosmo effect: 17 years after his first appearance in Cosmopolitan, Ilya Lagutenko, the leader of music group Mumiy Troll, talks about his work, dreams and plans for the future.
Additionally, the latest issue of Cosmopolitan includes a bracelet-ticket for the magazine's 20th anniversary party, which will be celebrated on September 13 in Muzeo Park, Moscow, from 3 p.m. to 10 p.m.
Cosmopolitan has already celebrated its jubilee in Novosibirsk, Yekaterinburg and Saint Petersburg. In Moscow, six themes will be explored – Beauty, Fashion, You and Him, Career and Psychology, Tourism and Travel, Energy and Health, and there will be a concert featuring popular musicians. Stylists, fitness experts, consultants, artists, psychologists and many other professionals will also be present and to share their advice. In addition, Cosmopolitan has prepared many surprises – for more details visit 20years.cosmo.ru.