Popular Mechanics Contest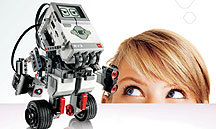 Popular Mechanics magazine announces a competition that gives participants a chance to plunge into the world of applied robotics — the construction and operation of real robots.
Contest participants are required to develop a creative robotics project and post it on the magazine's website, popmech.ru. The winners will be given the chance to join the Popular Mechanics team and attend the 2014 World Robot Olympiad as a guest of honor. A working version of the best project will be built and entered in the Robot Olympiad.
It's just possible that the winning idea will one day save humanity, enable mankind to explore the farthest reaches of space or simply make the best cup of cappuccino the world has ever seen.
Lego Education will serve as partner to the competition.
The World Robot Olympiad will be held in Moscow in November of 2014. Find more information about the contest at popmech.ru.