SIM Magazines Free with iPad Purchase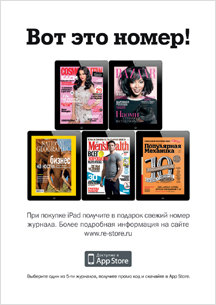 The Sanoma Independent Media publishing house and re:Store outlets are holding a promotion.
Any customer who purchases an iPad at a re:Store receives a special promotional code good for a free App Store download of the latest issue of any one of five SIM magazines: Cosmopolitan, Harper's Bazaar, Men's Health, National Geographic Russia and Popular Mechanics.
The promo code for the free download appears on the purchase receipt. For more details, check out www.re-store.ru.