Cosmopolitan in December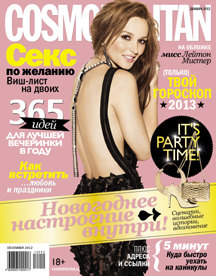 Leighton Meester graces the cover of Cosmopolitan this December. The actress uses her interview to talk about the end of the Gossip Girl TV series, clothing and her upcoming marriage.
The December issue of Cosmopolitan is traditionally devoted to preparations for the new year. This bright and festive issue offers readers a special section titled "In the Mood!":
23 great ideas for closing out the year and perfumes to fulfill your fantasies;
Horoscope 2013: everything comes true;
Dates in time: scenarios from the best parties of the year — celebrating New Year's Day in the style of other holidays;
The art of laughter: learn to joke so that everyone has fun;
Urgent meeting: ideas, addresses and links for quick holiday getaways;
Not a bad start: getting acquainted, engaged and married over the New Year's holiday;
Fashion and beauty: face art, necklaces, earrings, flashy outfits and great party looks.