Popular Mechanics in July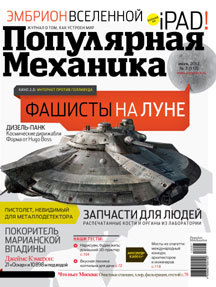 The highest point on Earth, the peak of Mount Everest, has been conquered by approximately 4,000 people, but only three people have descended to the lowest point on Earth: the Mariana Trench. The July issue of Popular Mechanics magazine describes the conquest of the deepest oceanic trench on Earth.
The "Science" section features an article on one of the fragments from the first microseconds of the universe and explains how it played a major role in the further evolution of physical matter. The "Weapons" section describes a pistol that even metal detectors cannot identify and the return of the reputable Osprey tilt-rotor aircraft that experienced repeated accidents during test flights.
Also in this issue:
The Eiffel Battle: a master class on building bridges from pasta;
Worlds out of nothingness;
Fascists from the moon;
Tasty smoke: editors test various devices for smoking food;
Lacerating water;
Visual fantasies on paper: editors test a 3D printer.