Contest in June Issue of Cosmopolitan for the iPad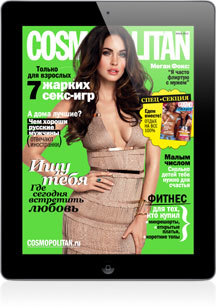 In the June issue of the iPad version of Cosmopolitan, readers can compete for certificates to the Equip chain of designer jewelry stores. To play, readers should download the issue from the Cosmopolitan kiosk in the AppStore, find the contest page and assemble the puzzle shown. Those with the fastest times will receive prizes.
The iPad version also includes all of the articles in the printed issue: an interview with Megan Fox and Jenson Button, a special Travel section, interactive games such as battleship, a maze and romantic evening cards, along with trailers from the latest films and much more.