Cosmopolitan Video Conference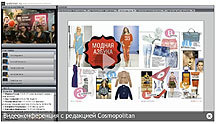 Cosmopolitan magazine held a video conference with its readers on Feb. 25.
The video conference participants included Cosmopolitan magazine editor-in-chief Alya Badanina, Cosmo.ru site chief editor Alina Krasnova, fashion section director Anna Rykova, beauty section director Natalia Sherstyuk and editors Anna Stupenkova and Anastasia Krasavchikova. Speaking in real time with their readers, the editors shared news about upcoming projects: a new issue and plans for the website.