Popular Mechanics in January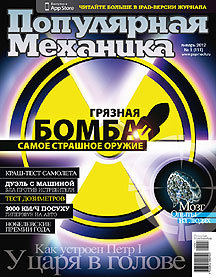 The cover story of the January issue of Popular Mechanics magazine is radiation and radiophobia. Readers will learn which types of radiation are the most dangerous, the most common everyday sources of radiation and the best dosimeters commercially available.
The "Science" section includes articles on different methods of studying the human brain and the 2011 Nobel Prize winners. In "Weapons," readers learn about the various types of "dirty bombs" that leave radioactive contamination and are simpler to make than traditional nuclear weapons.
Also in this issue:
The synthetic worlds of James Cameron: an interview with the world-renowned Hollywood director;
The power of gas-powered sledge hammers: Does the shockwave motor have a future?
In the tsar's head: a journey into the biggest and most controversial statue in Russia;
Caramel light bulb: sweet technology and a demystified myth;
Beating up jets: extremely rigorous tests on the ground provide reliability in flight.