Two Years of Morozovka Magazine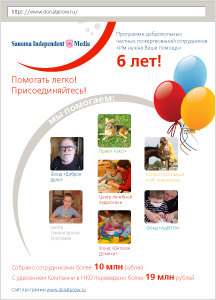 This year, Sanoma Independent Media supports Morozovka magazine, with the spring issue just out. The magazine is produced by volunteers with the Give Life foundation who visit children with cancer at Morozov Children's Hospital.
The magazine, first released at Easter 2009, has turned two years old. The cover featured the imaginary character Ulybkin (Smiley) created by the volunteers, and the issue included articles about Easter and photos of Easter eggs that volunteers had painted with children at the hospital.
The ninth issue of the magazine has just been released. Now all nine issues of Morozovka can be found at the website www.morozovka.org.