"A Human Life is not Loose Change!" – Charity Drive from Sanoma Independent Media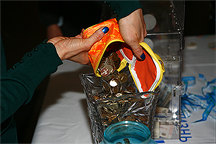 In April, the Sanoma Independent Media publishing house held its third drive to collect pocket change in support of the Lifeline charitable foundation that assists children with serious illnesses. In just two hours, employees contributed 31,950.16 rubles ($1,165.19) in loose change.
The money was used to treat 10-year-old Albert Gibadullin who suffers from congenital heart disease.